Do you remember this necklace from my last post? I finished writing the pattern for it (with a few changes). I added a small star in the center, made the strap shorter, and made it in Christmas-y colors...
And voila! It became a Christmas ornament!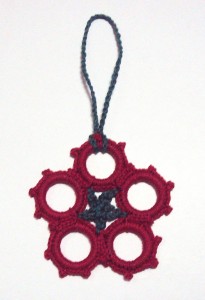 You can find the pattern at Crochet Spot:
Star in a Flower Ornament
. Yes, I'm writing for Crochet Spot's Rachel Choi! I've also written another post for the site, a t
utorial for the popcorn stitch
.
I can't even begin to express how happy I am about this. I finally found a way to combine two things I love doing: crochet and writing. And make a little extra money, too! I think (and hope) that this will develop me both as a writer and a crafter. Already, I'm learning a lot about writing better posts and how to make patterns simpler to read. Rachel, I can't thank you enough for this great opportunity. :)