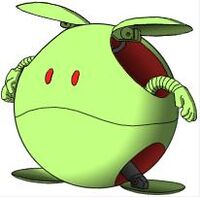 Haro is a handly little robot in the anime series Gundam. He's a personal assistant of sorts to his owner and inventor. More information on Haro here:
http://gundam.wikia.com/wiki/Haro
My friend and co-worker Paolo was given one for his birthday this year by his lovely girlfriend Maris. Yes, a real one! Well, as real as possible -- it can't violate laws of physics and gravity like its animated counterpart. But it does talk, and wobble, and move. And has appendages. :)
Paolo asked if I would make a crocheted pouch for him... And here it is!
He always did joke around that if I ever did crochet anything for him it would be black, covered in spikes and burning in flames. Haha. My bad--everything I crochet is girly and lacey, and he of course doesn't want that.
But he's perfectly happy with this pouch made with tapestry crochet. And so is Haro:
This is my first time making color changes in tapestry crochet with three yarns. My hands and eyes were all a-goggle from the effort. Here's Haro looking piteously at the confunded yarns: